I live in Southern Oregon, and in addition to it being hellaciously conservative and devoid of any culture- we also are rarely blessed with fun things from nature…like snow. It started steadily snowing, but not sticking, on New Years Day. At 5 pm on Tuesday, it began to stick. For all of you who live in areas that frequently receive snow, and lots of it, the town of Roseburg's reaction to a whopping 6 inches of snow will leave you thinking we're a bunch of babies here. EVERYTHING SHUT DOWN. Today, it has melted some but you're basically looking at the amount of snow that shut down an entire town in this photo. Okay, maybe we are a bunch of (unprepared) babies.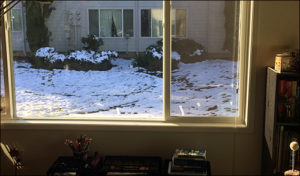 The extreme cold coupled with my being home a lot had me itching to deep clean Jason (my amazingly talented boyfriend of 2+ years) and my (very) tiny apartment. During the cleaning frenzy, I picked up my little bag of "empties"- as beauty vloggers/YouTubers (I feel like a fossil when I try to describe this profession) call the used up makeup/beauty products you should have put in the garbage can or recycled but instead show off and review…your trash. I absolutely love bingeing on makeup tutorials and any beauty related YouTube channels. I have loved makeup and beauty my entire life. My mother had to hide her makeup on high shelves to prevent little me from dousing myself in foundation and blush. If you would like further evidence of how long I've been beauty obsessed; this is me at 8 years old, in 1993, after my sister (the taller one who is standing in that magnificent dress nabbed from my mother's closet) and I begged my 16-year-old cousin to do our makeup.

Both of these loves have caused a desire, or more a hesitant interest, in making my own beauty videos- but, as I am forever awkward and do not feel like that would be something I could excel at (with the exception of possibly "going viral" with the most cringe-worthily awkward makeup tutorial ever)- I decided that since I like to write, and again, I love makeup and beauty and talking about these things; why not use my long neglected blog to review my "empties", or "beauty trash" (I am blatantly stealing this description from one of my favorite YouTube personalities, Tati of GlamLifeGuru). Let's delve in!