I read 3 novels and 1 graphic novel this month- incredibly low numbers for me. It was not a good reading month, obviously. Out of the 4 books I read, there was one that took most of the month for me to finish. I'll delve more into why that happened in the "review" for that novel. At this moment I have completed 20% of my reading challenge goal for 2017 on Goodreads (75 books). I feel a little weird posting such a small wrap-up, but (I assume) most avid readers have experienced being stuck on a book. Once I start reading a novel there is something in me that refuses to let me just give up on it. My DNF (did not finish) shelf on Goodreads only has 2 books on it ("Haunted" by Chuck Palahniuk and "The Mercy of Thin Air" by Renlyn Domingue); which goes to show that no matter how bad a book is I will almost always trudge through to the end before I pick up another book, even if that means it takes me weeks to finish it.
As usual, if I posted a photo of my current read on social media I will include that- otherwise the photos are from Amazon.
On with the as-spoiler-free-as-I-can-make-them reviews:
BLACK AND BLUE
ANNA QUINDLEN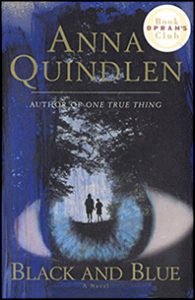 This was a very triggering book for me. I am a domestic abuse survivor and there were lines in this book that caused my throat to feel like it was closing up, tears to spring to my eyes, and near full sensory flashbacks. There is a line from this novel that felt like I could have written it about my own former abuser:
"As rich and persuasive as Bobby Benedetto's voice, that was how full and palpable was his sorrow and regret. And how huge his rage. It was like a twister cloud; it rose suddenly from nothing into a moving thing that blew the roof off, black and strong. I smell beer, I smell bourbon, I smell sweat, I smell my own fear, ranker and stronger than all three."
It is a powerfully moving, terrifying, and poignant novel. What kept me from giving this novel a full 5-star review is the last 20 pages or so. The ending of this book feels pointless to me and does not help the story in any way. I'm not sure if Quindlen just didn't know how to wrap things up as the ending just felt an afterthought.
If you are a domestic abuse survivor I wouldn't recommend this unless you have a good distance from your trauma or have found some peace. I would recommend it, though, and not even just to abuse victims. It describes the absolute inner and outer turmoil, near havoc, domestic abuse causes in your life almost perfectly and can give the person who has not experienced this awful (and far too common) kind of abuse good insight into what it is like to be in that situation. It handles the question of, "Why don't they just LEAVE?" with delicacy and accuracy.
4 out of 5 stars
TRIGGER WARNING
NEIL GAIMAN
It saddens me to say this- "Trigger Warning" is the book I got stuck on for most of February. Gaiman has been one of my (hands-down top 10) favorite authors for an incredibly long time. The first novel I ever read by him was "Neverwhere" and I was immediately hooked. "American Gods" is one of my favorite books of all time, and I am beyond excited for the TV adaptation to finally come out. That being said- I just could not get into "Trigger Warning". A very large portion of the stories felt like they petered out into nothingness and were never even wrapped up. Occasionally, the stories felt like they had no plot whatsoever and were incredibly convoluted, bordering on pretentious. What saved this book for me were 3 absolutely sublime short stories: "Diamonds and Pearls: A Fairy Tale", "Black Dog", and "Nothing o'Clock".
"Diamonds and Pearls: A Fairy Tale" is an amazing mashup of so many of my beloved fairy tales. I am a fairy tale junkie and retellings are some of my favorite novels/stories to read. This story features a grown-up and completely bad-ass Snow White. It was an absolute joy to read.
"Black Dog" is a short story set in the world of "American Gods" featuring the main character from that novel, Shadow (book boyfriend alert). I don't want to give anything away from this story; but, I will say that Bast shows up, which made me grin wildly while reading.
"Nothing o'Clock" is Neil Gaiman writing "Doctor Who" fan fiction- really, nothing could be better. This short story was so incredibly well written that I felt like I was watching an episode of "Doctor Who" and not reading at all. For some reason, while reading this I pictured the Doctor as David Tennant's incarnation, even though he is not my favorite Doctor (I hold the very unpopular opinion that Christopher Eccleston was the absolute best Doctor). This story made me so happy and was wonderfully transportive.
3 out of 5 stars
READY PLAYER ONE
ERNEST CLINE
I am afraid to say almost anything about this novel. Going into this book blind was part of the fun. The only thing I knew about "Ready Player One" was that it had something to do with a video game contest and that Jason, my boyfriend, would not stop badgering me to read it. During the summer of 2016 Jason and I had to move in with my mother and father as our apartment was destroyed in an electrical fire. Jason, one day, tagged along with me to the library and he checked out this book. He ended up devouring it in one day. This is no small feat, as Jason isn't much of a reader (aside from the boatload of articles he daily reads online). I was so thrilled that I even snapped this photo of him reading: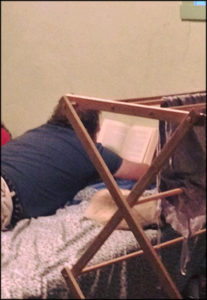 It took me 7 months to finally take his recommendation and I wish I had read it as soon as he suggested I do so. This is one of the most original, fun, and insanely creative books I have ever read. It is a new forever favorite that I know I will read again and again. Do you like the 80's, video games, and nerd culture? READ THIS NOW.
The movie adaptation comes out in 2018 and will be directed be Steven Spielberg. The movie is in good hands and I am hoping it is as amazing as the book.
I can't recommend this book enough!
5 out of 5 stars
THE LEAGUE OF EXTRAORDINARY GENTLEMAN, (VOL. 1)
ALAN MOORE;KEVIN O'NEILL (ILLUSTRATOR)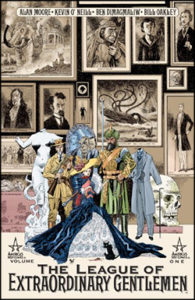 I didn't love this graphic novel, and I really had high hopes for it. Alan Moore's writing is magnificent, as usual, but I feel as if this might be one of those comic series that does not hit its stride until later as far as plot development goes. I will definitely continue to read this with the hope that it does get better. O'Neill's illustrations are beautiful, and it includes a beloved fictional character of mine (Mina Murray/Harker). I love the time period it is set in as well, and the villains in this are quite often disgusting (which I, of course, can always get into).
I would recommend this, but it isn't amazing by any means. . .just good.
3 out of 5 stars
As usual, please let me know in the comments if you enjoyed this post! I would also love to hear any thoughts on these books if you have also read them, and any recommendations for novels I should read in the future.
__
Lori