I wrote this piece, "My Worst Enemy" for an assignment in my first college writing class. The assignment was to write a highly descriptive essay or story. When our papers were being handed out, mine was set on my desk with a deliberate smack. I immediately noticed that the paper was missing a grade. I looked up at my instructor who then said, "I need to see you after class". I panicked, thinking that the subject of my "story" was so personal that she was going to demand that I see the counselor.
Here's the thing: I was 19 at the time and living with bulimia and anorexia. I still deal with ENDOS, which is Eating Disorder Not Otherwise Specified- basically a fancy way of saying I have a fucked up relationship with food.
I approached her desk after class with my heart feeling as if it was going to pound straight out of my chest. "What's wrong with my paper? I understand the subject material is kind of intense. . .", I trailed off, nervous and shaky. Well, more shaky and nervous than my normal 19-year-old baseline of constant anxiety.
"Lori, you didn't write this. It is above college level, and while I have yet to find any evidence that you plagiarized this piece, I do not believe you have it within you to write something like this", she scrawled a large B- on my paper and handed it to me without another word. I received a B because this woman thought my writing was too good. I was enraged and yet flattered at the same time. Enraged that an instructor would squash what she saw as talent for no reason other than she herself was a failed writer. An instructor who started every class with a recitation of one of her cringe-worthy poems. An instructor who later on in the term gave me a C on a narrative assignment when the only red mark was her correction of "Uncle" to "Oncle" (I suppose this was because she was from New Orleans. I suspect it was because she hated me). Part of me, though, was flattered that she thought my writing was "above college level", whatever that even means. I ended up receiving a B in this class solely because of those two assignments.
The following is that "infamous" (in my world) essay, unedited, from 2004:
MY WORST ENEMY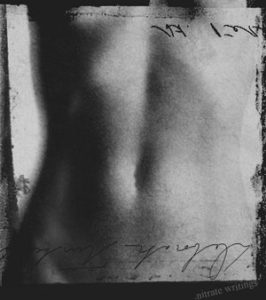 "It is a Wednesday. She's lying on the cold floor of the living room at three in the morning. The empty house sighs and creaks around her, a settling that never seems to stop. "If only a similar settling could happen within me," she thinks.
She rolls from her back onto her stomach, pressing herself as hard as she can against the bare oak floor. She begins a mental checklist of where her body meets and doesn't meet the floor. The bones should always meet the floor in a bruising and painful way. The area between the ribs and hips should never touch the wood; it should hover away as if balanced on the crags of the ribs and hips. It seems as if again her body refuses to conform to the rigid standards she has set for it. The bottom of her belly grazes the floor. "This isn't acceptable," she thinks as she squeezes her eyes shut to stop the hot salt from flowing. She rolls back again and stands up quickly, lifting her shirt to look at the parts that refuse to fall in line. She grabs the flesh of her stomach in one hand and pinches and pulls as she sobs. She's tried so hard for months for it to disappear, that last bit of extra flesh that refuses to fall away.
She runs up the cold stairs to her bedroom, ripping through the doorway, stopping as her eyes wildly search for the notebook she so desperately needs right now. As her glazed-over eyes land on the frayed, pink book, she begins to run again, but her feet catch on one of the torn pages of a fashion magazine, the envied black-eyed waif crumpling under her feet as she slams to the floor. The impact takes her breath away, and as she opens her eyes, a wave of dizziness sweeps over her. Black spots collect in front of her eyes, and she blinks them away rapidly. This dizziness isn't new, though. It always comes on from moving positions too quickly, and it's become a normal part of her day. "Nothing to worry about. Just another symptom to add to the list," she tells herself quickly. She reaches a pale, freckled arm to the bed where her notebook lies and grasps it in between thumb and forefinger, pulling it down to meet her on the floor. She flips through the pages until she reaches the last in a multitude of crammed, black ink scrawled entries. An entry marked "April 16th" is what the much sought after page contains. "8am/whole wheat toast/130c/purged, 4pm/8 glasses of water/bag of pita chips/800c/ purged". Her tears fall on the page and blur the ink until the writing is illegible. She understands why the flesh won't disappear; it's her fault for having eaten at all. She reminds herself that no food is worth the lump in her middle. Not even the feel of buttery chocolate melting on your tongue, or the silky cold of good ice cream is as good as the gnawing triumph of hunger. None of that can taste as good as the victory of bones and only the bones meeting the floor."