I live in Southern Oregon, and in addition to it being hellaciously conservative and devoid of any culture- we also are rarely blessed with fun things from nature…like snow. It started steadily snowing, but not sticking, on New Years Day. At 5 pm on Tuesday, it began to stick. For all of you who live in areas that frequently receive snow, and lots of it, the town of Roseburg's reaction to a whopping 6 inches of snow will leave you thinking we're a bunch of babies here. EVERYTHING SHUT DOWN. Today, it has melted some but you're basically looking at the amount of snow that shut down an entire town in this photo. Okay, maybe we are a bunch of (unprepared) babies.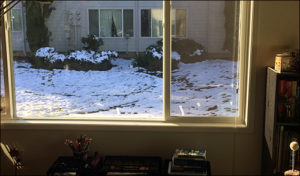 The extreme cold coupled with my being home a lot had me itching to deep clean Jason (my amazingly talented boyfriend of 2+ years) and my (very) tiny apartment. During the cleaning frenzy, I picked up my little bag of "empties"- as beauty vloggers/YouTubers (I feel like a fossil when I try to describe this profession) call the used up makeup/beauty products you should have put in the garbage can or recycled but instead show off and review…your trash. I absolutely love bingeing on makeup tutorials and any beauty related YouTube channels. I have loved makeup and beauty my entire life. My mother had to hide her makeup on high shelves to prevent little me from dousing myself in foundation and blush. If you would like further evidence of how long I've been beauty obsessed; this is me at 8 years old, in 1993, after my sister (the taller one who is standing in that magnificent dress nabbed from my mother's closet) and I begged my 16-year-old cousin to do our makeup.

Both of these loves have caused a desire, or more a hesitant interest, in making my own beauty videos- but, as I am forever awkward and do not feel like that would be something I could excel at (with the exception of possibly "going viral" with the most cringe-worthily awkward makeup tutorial ever)- I decided that since I like to write, and again, I love makeup and beauty and talking about these things; why not use my long neglected blog to review my "empties", or "beauty trash" (I am blatantly stealing this description from one of my favorite YouTube personalities, Tati of GlamLifeGuru). Let's delve in!
Garnier Skin Active Clean+ Purifying Oil-Free Cleansing Towelettes (ULTA) :

I am on what seems like a never-ending quest to find facial cleansing wipes/cloths that do not irritate my skin- and by that I mean a wipe that does not make my face feel like it is burning off. I have extremely sensitive combination skin, which has been leaning more towards the oily side lately, as well as rosacea and hormonal acne that popped up along my jawline and chin when I was 29. These wipes are made for acne prone skin and claim to mattify over time. The problem is I did not use these daily. Facial cleansing wipes are reserved for my rushed mornings or lazy nights when I just can not bare to double cleanse. The upside is that these wipes never caused my skin to burn and also did a pretty good job removing eye makeup (except for lash glue). My breakouts along my jawline were still frequent while using this product but they did seem to heal and fade faster. I would recommend this to people with sensitive or oily skin (or both, like lucky me), and I might purchase them again.
E.L.F Blemish Control Primer (E.L.F.) :

This primer is packaged in an opaque bottle, something that frustrates me because you have no clue when you're about to run out…and I ran out as I was trying to use it. I ended up kind of attacking the bottle to get the dregs of the product out. You can probably ascertain from that that I did like this primer. I used this more often on the days I went without foundation. I would put it on after I had let my moisturizer absorb and then apply a pore blurring primer, such as Benefit's Porefessional, on top of the ELF primer after it had absorbed. It has nearly no detectable fragrance and it helped to control my breakouts. It contains salicylic acid so i'm gathering this was why it worked for that. I did not, however, notice that it helped at all if I did wear foundation on top of it. It did not make my foundation last longer. I would recommend it almost as just an acne treatment after moisturizer. I do not think this would work well for people wth dry skin as it is a bit drying.
Tarte Maracuja Oil (Sephora):

I am obsessed with using oils for hair care, but until I received this sample in an ipsy bag I had never tried oil for skin care. At times, like now, I have out of control oily skin. Putting more oil on my skin would seem to be like adding insult to injury, right? The first night I tried this I was impressed with how quickly it absorbed into my skin and shocked that it did not leave my face feeling greasy. It smells delicious and it was a joy to use as the little bottle is beautiful and came with a hygienic dropper. However, I did not notice any difference in my skin at all and for the price point, I do not think I will be repurchasing it. I did use it a few times in my hair but I was not impressed- I am head over heels in love with Keune's Moroccan argan oil and a hair oil has to blow me away for me to consider switching from that product. I could see this working very well for someone with dry skin, but since that is not my skin type at the time I can not really say if it does.
Softlips Hello Kitty 5-in-1 Lip Care Cube (Softlips) :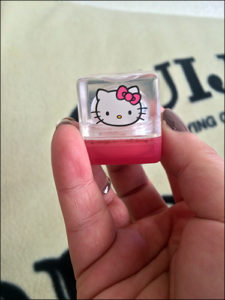 A cube lip balm + Hello Kitty? How can you go wrong! I love this balm and annihilated it trying to get the rest of the product out of the cube. It's cute, it has a lovely flavor (this one is strawberry banana) and contains SPF 15. I would repurchase this based on the cute factor alone, but I am a lip balm and chapstick hoarder and do not need any more (I might want more…but that's part of being a beauty addict). I completely recommend this for anyone, unless you do not like Hello Kitty.
Real Techniques Miracle Complexion Sponge (ULTA) :
I killed it. I finally used my Miracle Complexion Sponge to death- which is why there is no photo; no one wants to see that. This is a definite repurchase (in fact an already repurchased). I prefer this sponge to the BeautyBlender mostly because of the edged side which makes applying foundation around the nose and eyes a breeze. Also, the price point is great considering Real techniques makes quality beauty tools. I highly recommend this product- I can't live without it (okay I could, but you get my point).
That's it for this Beauty Trash review. If you liked this please leave a comment- a little recognition is a motivation for me to do more things like this. If you have tried these products as well I would love to hear what you think of them!
—
Lori {X}